Federal Ministry of Economics ranks mediare among the top 5 start-ups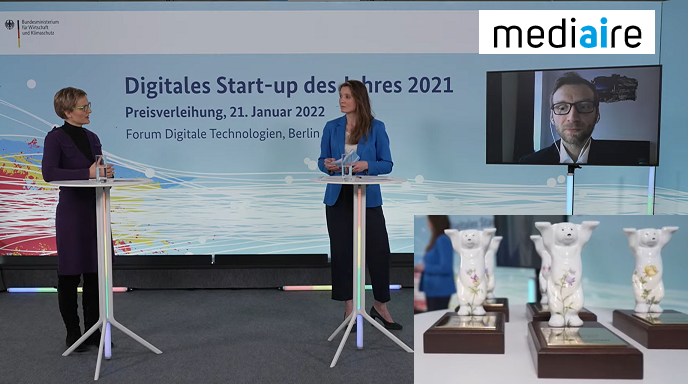 The German Federal Ministry for Economic Affairs and Climate Protection has awarded five founding teams the "Digital Start-up of the Year 2021" prize. Among the award winners is our start-up mediare, in which we invested in 2020. The award recognizes start-ups that have implemented digital business models quickly and successfully and that promise further growth.
We are very happy that founders Andreas Lemke, Jörg Döpfert and their team could convince the jury with the product mdbrain. 
mdbrain can automate the evaluation of radiological images. An AI evaluates the images of the brain and compares the image information with standard values. In this way, it aims to better detect Alzheimer's and Parkinson's disease. 
he jury selectedmediaireon the basis of the high unique selling proposition of the product and service portfolio, the growth prospects in the target markets, the entrepreneurial performance to date in implementing the idea, and finally the management potential for further successful development. The laudation also highlighted that a high double-digit number of radiology centers already use the AI-based mdbrain solution in their daily routine and that the system has already qualified for the KHZG digitization initiative for hospitals in Germany.
 "With their successful business models, the award-winning startups are driving the digital transformation decisively. The innovations of the award-winning teams arm companies against cyber attacks, strengthen key technologies such as artificial intelligence in our healthcare system, quickly realize the transportation revolution, and they make life easier for people with disabilities," says Parliamentary State Secretary Franziska Brantner.