Interview with Katja and Conny in the SHECONOMY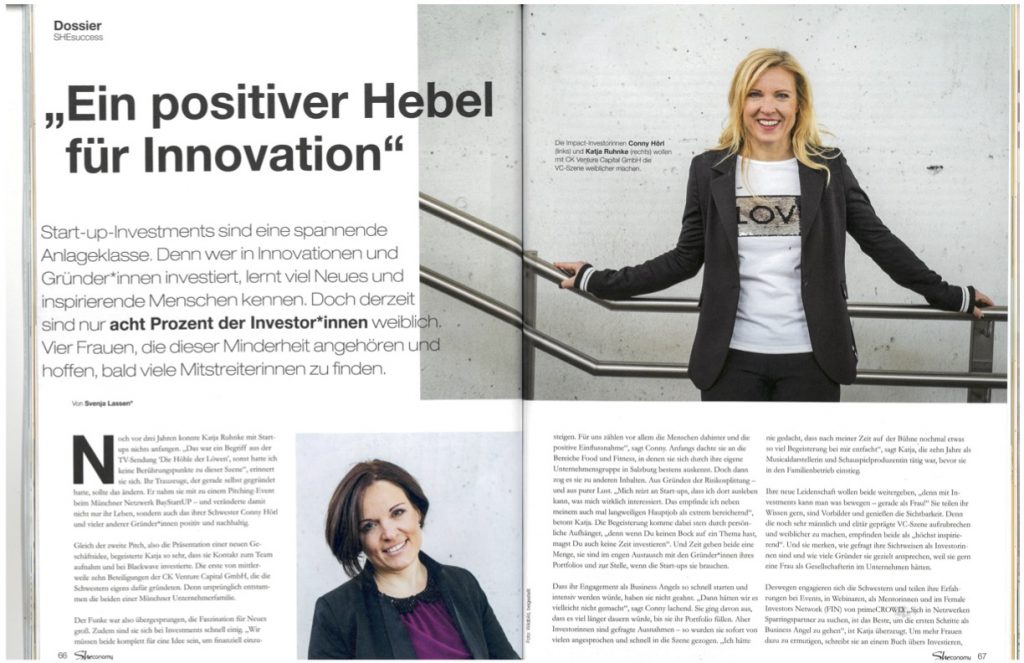 The topic of "Female Investor" is increasingly becoming the focus of the media, and that's a good thing. The latest publication was penned by Svenja Lassen, founder of FIN (Female Investors Network) by primeCROWD and former Cosmopolitan business editor.
She published an inspiring article for the business magazine SHECONOMY and explored the question of why there are only 8% female business angels. For this purpose, she interviewed Katja and Conny, as well as the business angels Dörte Kaschdailis and Silke Sommer. We share a common goal: to motivate more women to invest in asset classes other than real estate or traditional stocks. Start-up investments are still perceived as a kind of mystery and are fraught with a lot of prejudices. These hold many women back from investing in young companies. One reason for the hesitant approach is the assumption that it is only possible to gain a foothold in the business angel scene with a lot of capital, great experience or exceptionally good sales channels.
The reality is different: even with ticket sizes of 10,000 euros, you can be part of it, e.g. through organizations like primeCROWD, experience comes with doing and most women have better networks than many men. 
We hope that this article will encourage others to follow us and, like us, just jump in at the deep end.